Perfect for home or office!
Officially registered as a Medical Device in Korea, this phenomenal piece of equipment is the ONLY alkaline water ionizer IN THE WORLD that dispenses INSTANT HOT AND COLD ALKALINE WATER! Our KYK 777 Instant Hot/Cold Alkaline Water Ionizer with Built-In 4-Filter Water Filtration System is the ultimate in alkaine water machines, offering the absolute best of the best in ionization. This "king" of ionizers sits majestically atop a counter or table and provides you with virtually unlimited access to both instant hot and cold alkaline drinking water anytime you want.
What makes the KYK-777 the best alkaline water ionizer?
KYK devoted an impressive 34 YEARS of research, development, studies, testing, and perfecting this technology to create the ideal instant hot/cold alkaline water ionizer, the first ever
This machine uses the FIRST automated outer cork in the world
The 777 is THE FIRST AND ONLY machine to utilize instant cooling and heating of alkaline water
It does NOT have a water output hose nor water tank
Technological development cost approximately 3 billion dollars
KYK holds 12 amazing patents related to the 777
Its safety and effectiveness has been verfied by the Korean FDA
The KYK-777 is a registered medical device
It has won artistic, creative, and aesthetic praise and accolades for its incredibly innovative design
It produces more than 5 liters of alkaline water at once
4 high efficiency filters remove up to 99.99% of contaminants and impurities from water
It actually REMEMBERS your pH selection and will dispense that level next time!
Safety feature automatically dispenses cold water only when turned off after a while of non-use
This revolutionary achievement surpasses all other water ionizers on the market and makes the KYK 777 the very first & only ionizer in the world to combine the production of alkaline water with instant cold and hot water!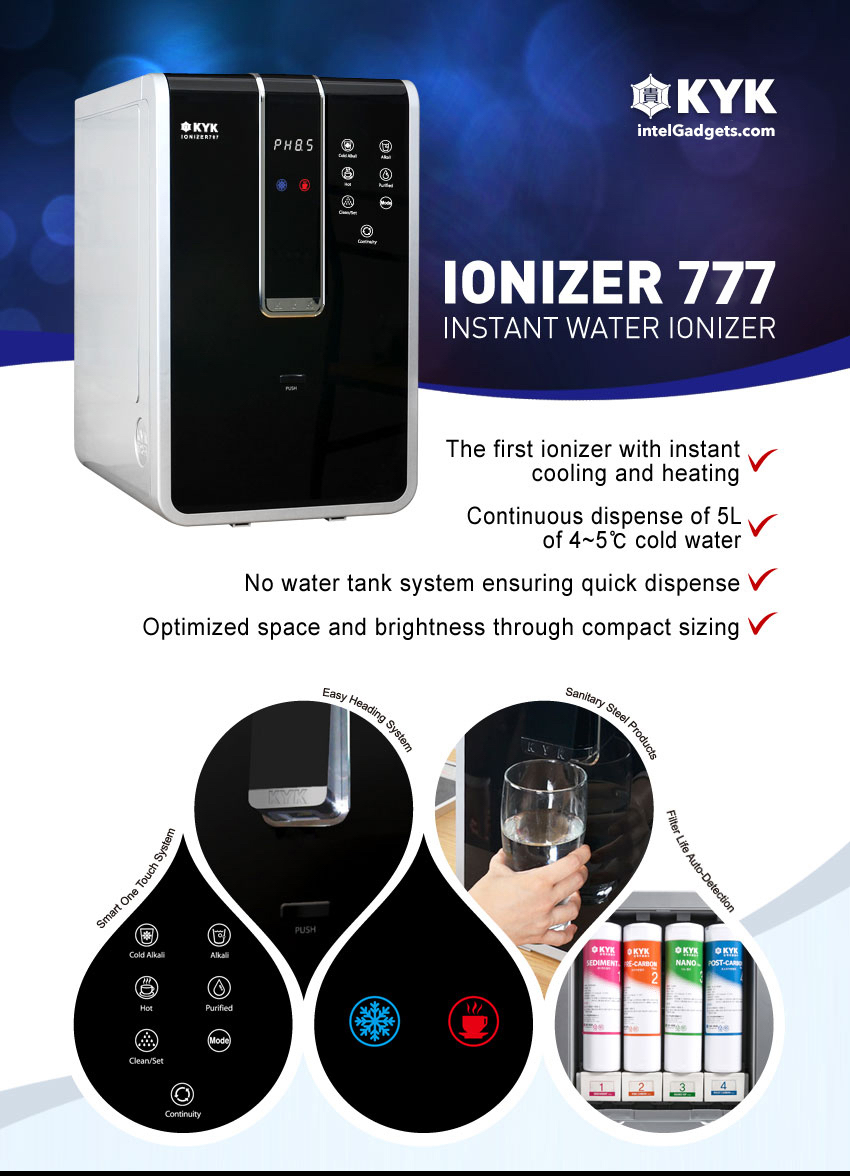 Switch instantly and effortlessly between hot and cold alkaline water with no hassle and no wait time!
It's a breeze; and the machine's indicator simply illuminates red when dispensing hot water and blue when dispensing cold water. In addition, right above the temperature indicator you'll also find the exact, precise pH level of the water.
The phenomenal KYK-777 uses a total of 4 powerful, effective, and efficient inline water filters, PLUS a UV disinfection process as well, to create only the best, purest, most delicious of drinking waters, free from contaminants, chemicals, bacteria, and a myriad of other toxins and impurities.
It features an impressive capacity of producing over a gallon at a time, so no need to wait for heating nor cooling, and the ionization process is virtually immediate as well. Instant hot or cold healthy alkaline drinking/cooking water at your fingertips any and all the time!
This incredible machine is vastly innovative and truly is a revolutionary piece of equipment that can change your life! Once you experience the KYK-777's delicious and healthy benefits and uses, you'll definitely agree! Join the instant hot and cold "club" today with your very own brand new KYK 777!
Functions
Removes bacteria, chemicals, and toxins from regular water
Produces delicious, purified, alkaline drinking water
Instantly heats or cools water
Can produce up to 5 liters of alkaline water at a time
Features
4-Filter technology for maximum purification
UV (Ultraviolet) disinfection for maximum sterilization (99.999%)
Instant hot or cold filtered, purified, and alkaline drinking water
2 delightful indicator lights - blue for cold water, red for hot water
Built-in automatic electronic valve for ease, convenience, and safety
No bulky water tank
Unmatched up to 700W power
BPA-free materials
No chemicals whatsoever used to increase water pH
Environmentally-friendly manufacturing processes
Includes
KYK-777 Water Ionizer
4 Filters
All necessary parts, such as water tray, hoses, attachments, fittings, etc.
User Manual
FREE Water pH Testing Kit for absolute confidence and peace of mind
Specifications
Weight: 20 lbs
Dimensions (WxHxD): 11.8" x 19.2" x 18.3"
Voltage and Frequency: Standard 110V, 60Hz
Water Temperature: 41 - 95 degrees Fahrenheit
Table of Specifications
Model

KYK 777 (Registered as a Medical Device by KFDA)

Manufacturer

KYK Co., Ltd.

Purpose

To produce alkaline and purified water for drinking, cooking, etc.

and acidic water for other purposes such as cleaning, face-washing,

etc.

Line Voltage and Frequency

AC 110/220 V and 50/60 Hz

Energy Use

700 W

Dimensions (WxHxD)

11.8" x 19" x 15.7"

Weight

44.1 lbs

Mounting

Stand Alone/Countertop

Water Supply

Direct Connection to Tap Water

Controls

Touch Buttons

Filter Composition

Total of 4 Filters:

1st Filter: Sediment

2nd Filter: Pre-Carbon

3rd Filter: Nano

4th Filter: Post-Carbon

Filter Life

Exact lifetime depends on a variety of factors including but not limited

to source water quality, pH, composition, and machine usage;

however, Approximate Lifetime is 1,000 gallons or 6 months

Filter Life Indicator

Remaining Filter Capacity is displayed on LCD Screen

Electrolysis Method

Continuous Electrolysis (including flow sensor)

Electrolysis Rate

Alkaline Water: 0.53 - 0.8 gallons per minute

Acidic Water: 0.4 gallons per minute

# of pH Levels

7 Total:

4 Alkaline Levels, 4 Acidic Levels, and 1 Purified/Neutral Level

Electrolysis Cell

7 Slotted Platinum-Coated Titanium Mesh Plates

Electrodes Cleaning

Automatic Self-Cleaning after each and every use

Display

Large LCD Screen displays pH and ORP levels, Water Flow Rate,

Remaining Filter Life, Water Temperature, etc.
Additional Information
| | |
| --- | --- |
| Medical Device License Number | 13-1327 |
| Power Protection Device | Fuse |
| Overcurrent Detection | Auto Stop of Electrolysis Output |
| Overheat Protection Device | Product Stops By Built-in Temperature Detection Circuit Within the SMPS |
| Operating Temperature | 41 - 86 Degrees Fahrenheit |
| Operating Water Pressure | 3.31 - 6.6 lbf |
5 Year Limited Warranty