Our Economic Alkaline Water Ionizer Model IT-656 is the perfect choice for a superior device at an affordable price. A few steps up from our basic model, it includes all the frills and features of our luxury models, but still flaunts a more basic level price tag.
Featured on our IT-656 are numerous functions and options that make utilizing this ionizer simple, efficient, and fun! For example, there's no need to approximate the exact pH level of your water, since the precise pH value is displayed on the large, colorful, LCD screen, that even lights up different colors according to the selected pH level! Also included on the display screen are ORP values, water flow rate, remaining filter life, machine working status, and more, all for your convenience!
Available in both 110V and 220V, the IT-656 is suitable for almost anywhere! It uses a powerful, high efficiency activated carbon fiber filter to remove impurities and contaminants from your drinking water, such as chlorine, fluoride, dirt, sediment, bacteria, and more. It features 5 premium high-tech platinum-titanium electrolysis plates and a precise ceramic ionic membrane from Japan that produce ionized water ranging from approximately 4.0 pH to 9-11.0 pH. With 7 preset pH selection buttons that range from Strong Acidic and Weak Acidic (for beauty, face-washing, etc.), to delicious purified drinking water, to low alkaline for the initial drinking period, to medium and strong alkaline for daily drinking and even stronger alkaline, for cleaning purposes. In addition to the 7 preset pH selections, one may also adjust the pH even further with – and + buttons.
Packed with features like self-cleaning and filter replacement indicators, a beautiful and delicate white, blue, and purple design, and its incredible ease of use, the IT-656 is easily one of our best and most popular IonTech ionizers, hands down. Purchase yours today to start enjoying the plethora of benefits of introducing ionized water into your life!
Functions
Converts regular water into a number of different levels of alkaline water

that are ideal for a plethora of uses; you can use alkaline water for rinsing fresh meat and produce, cooking, brewing coffee and tea, removing tough stains, sterilizing silverware, cleaning floors (for a beautiful shine), face-washing, and more!

Converts regular water into different levels of acidic water

for uses such as brushing teeth, restoring shine to hair, natural after-shave, sunburn relief, minimizing the appearance of pores, sanitizing utensils and tableware, and more!

Filters and Removes

chlorine, chemicals, dirt, bacteria, and many other harmful impurities from regular water, making it delicious and healthy purified water for drinking
Features
Powerful ACF-1 Activated Carbon Fiber Filter

efficient at chlorine, dirt, and other water contaminant removal

Adjustable Filter Life Setting

allows you to program how much water needs to flow through the filter before the ionizer reminds you to replace it

5 Premium High-Tech Platinum Titanium Electrolysis Plates and Precise Ceramic Ionic Membrane from Japan

provides optimum ionization

7 Different Preset Levels of Water

for a plethora of uses and benefits that range from cleaning, stain removal, and sanitation, to drinking, cooking, and rinsing pesticides off of fresh produce

Adjustable Electrolysis Intensity Setting

allows the user to actually manually adjust the pH value setting for the different selections

Automatic Cleaning Cycle After Each Use

helps keep the machine clean and working properly; and it also prolongs the lifetime of the machine

Full 2-Minute Cleansing Cycle

thoroughly and effectively cleans the electrolysis chamber after a certain amount of water flows through the machine

Convenient Cleaning Indicator

alerts user when a full 2-minute cleaning cycle is needed

Full Cleaning Cycle is Adjustable;

so you can set the exact amount of water needed to flow through the machine before it alerts you when a full cleaning is needed (for example, after 10 uses)

Handy Safety Setting

automatically switches to purified water to prevent accidental consumption of acidic water
Adjustable pH Levels

pH CHART For Water Ionizers
Alkaline Water

Foods, Disinfection, and Washing Dishes

pH 9.0-11.0 Alkaline 4 (Strong Alkaline)

Soak vegetables, beef, pork, and fresh fish to remove fishy taste and strengthen food's natural flavors

Make soup and helps food maintain nutrients and color

Effectively reduces pesticides on fruits and vegetables

Cleans tough oil stains on dishes

Ginger, Grapes, Tomatoes, Kelp, Seaweed

Alkaline Water

Daily Drinking

pH 8.5-10.0 Alkaline 3

Suitable for daily drinking and improving overall health

Improves conditions for upset stomach, constipation, diarrhea, and gout

Mushrooms, Soy Beans, Spinach

Alkaline Water

Cooking & Drinking

pH 8.0-9.0 Alkaline 2

Cook rice, preserves natural flavor longer

After initial period, this level is suitable for daily drinking

Make tea or coffee, reduces bitterness and improves taste

Bananas, Carrots, Chestnuts, Lettuce, Red Beans

Alkaline Water

Initial Drinking

pH 7.5-8.5 Alkaline 1

For people who are just beginning to drink alkaline water

Helps balance internal pH

Improves assimilation of calcium and other minerals

Apples, Cabbage, Eggplant, Onion, Tea

Purified Water

Purified Water

pH 7.0

No color, no taste, no impurities

Suitable for taking medicine, making milk, and for baby's diet

Asparagus, Bread, Milk, Miso, Tofu

Acidic Water

Acidic Water

pH 5.0-6.5 Acidic 1

Not suitable for drinking

Close to skin's pH value, this pH has an astringent effect for face washing

Ideal for bathing sensitive skin and infants and relieving sunburns

Minimizes appearance of pores and ideal for brushing teeth

Restores shine to hair and is great as a natural after-shave

Beef, Beer, Clams, Rice, Octopus

Acidic Water

Acidic Water

pH 4.0-5.5 Acidic 2

Not suitable for drinking

Antibacterial for tableware and floor cleaning

Soak to eliminate residual agricultural chemicals on fruits and vegetables

Cheese, Egg Yolk, Oats, Squid
Large Comprehensive LCD (Liquid Crystal Display) Screen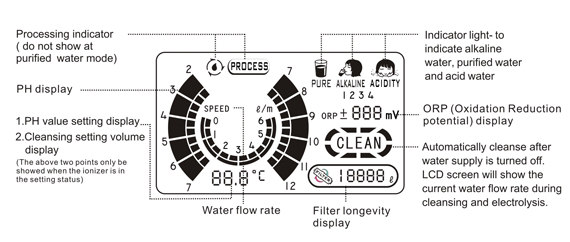 Includes
1 Alkaline Water Ionizer Machine

1 Alkaline Water Ionizer Filter

All necessary parts, such as hoses, valves, etc.

FREE Water pH Testing Kit for absolute confidence and peace of mind

User Manual
Specifications
Weight: 13 lbs
Size: (WxHxD) 16" x 12" x 10"
Electrolysis Plate Material: Platinum-Titanium Plate
Filter Material: Activated Carbon Fiber
Filter Change: Approximately every 12,000 Liters
pH Value: (based on source water quality) 4.5-11
ORP Value: (based on source water quality) Max: -850mv
Certifications
CE, SGS, ISO
Activated Carbon Fiber Filter
Replacement Filter
ACF-1 Alkaline Water Ionizer Replacement Filter
Recommended Add-Ons
Pre-Filter 3-Stage Purification System - Prolongs the lifetime of your alkaline water ionizer and improves its effectiveness by protecting it from calcium build-up, and provides additional filtration for the ultimate purification and quality improvement of your drinking water
Alkaline Faucet - Neat, compact, and stylish faucet provides ultimate convenience for the installation and operation of your alkaline water ionizer
Installation Videos
Alternative (under sink) Installation Video [This option uses the IT-Tap Faucet Accessory]
2 Year Warranty