If you don't want to alter or restrict your counter space, our IT-750 Under Sink Alkaline Water Ionizer could be the ideal option for you. Its compact unit size fits neatly under the sink and does not take up much room at all. Equipped with a 5-button control panel and indicator lights, the included sleek dual spout faucet features a sophisticated and elegant design that's not only aesthetically pleasing, but convenient and useful as well. You can make all your selections right there on your faucet, without ever needing to bend down and reach below the sink to the unit itself, unless it's time to replace the ACF-1 water filter (and the ionizer even alerts you exactly when a filter replacement is required).
Everything is easy with this model, from a quick, hassle-free installation process that usually does not even require a call to the local plumber, and super simple machine operation (mostly right directly from the faucet button control panel), to a virtually non-existent cleaning and maintenance routine. Like almost all IonTech ionizers, the IT-750 features a variety of incredibly useful functions including but not limited to: a filter change alert and indicator light, an automatic 10-second electrolysis chamber cleaning process after each and every use, and a full, more thorough 2-minute cleaning process that even plays pleasant melodies for the duration of the cycle. All you need to do is listen for the music to stop, and you'll know the machine has finished its self-cleaning. These features also help to extend the life of the filter, electrolysis chamber, and machine overall!
Convenient and Stylish Countertop Faucet with 5-Button Control Panel and Helpful Red and Blue Indicator Lights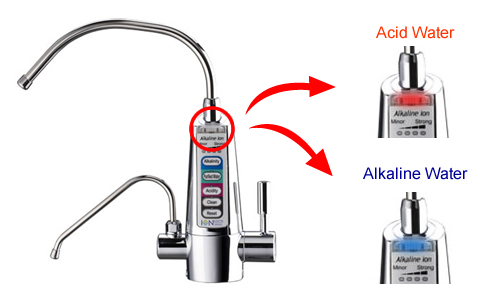 Features
Includes elegant, sleek, and sophisticated dual spout alkaline water faucet

(1 spout for alkaline and 1 spout for acidic) that frees up counter space and will certainly compliment your decor; the faucet also features a soft-touch 5-button control panel and even useful indicator lights that make operation a breeze

High efficiency ACF-1 activated carbon fiber filter

purifies regular tap water by removing toxins and pollutants like chlorine, chlorine odor, pesticides, dirt, and other impurities, creating delicious and clean drinking water

5 premium high-tech precise titanium plates coated with platinum

for powerful and reliable electrolysis/ionization process

Useful safety setting

helps prevent the accidental consumption of acidic water by automatically reverting back to daily drinking water after each use

Automatic 10-second electrolysis chamber cleaning process

occurs after each and every use to prolong the life of the machine and electrolysis cell, and to ensure optimal performance

Full 2-minute cleaning cycle

does practically all the cleaning and maintenance for you by alerting you when the machine production exceeds 13 gallons, and then with just a press of the "Clean" button, running a more thorough 2-minute cleaning process that even plays a melody simultaneously, so once the music stops, you'll know the cleaning cycle is finished

Easy to replace, hassle-free, quick-change filter

makes filter replacement a piece of cake every time

Filter Replacement Reminder

alerts you when it is time to replace the ACF-1 filter (average is approximately every 6 months) with a super handy indicator light

Convenient Red and blue indicator lights

located at the very top of the faucet to indicate whether the water currently being dispensed is acidic/non-drinkable (red) or drinkable (blue)

6 pH water levels

range from 1 acidic level and 1 purified level, to 4 different alkaline levels

pH adjustment function

allows user to further adjust the water pH slightly up or down, ranging from weak to medium to strong, again with just a few button presses

Quick and easy installation process

allows the majority of IT-750 customers to install the unit without the need to call a plumbing professional

Compact under sink design

frees up counter space, plus takes up hardly any room underneath the sink

Includes all parts necessary for installation

such as hoses, clamps, wrench, tee connector, etc.

FREE water pH at-home testing kit

provides you with an easy, fool proof process to measure the precise pH levels of your water with a solution, sample collection cup, and pH value chart for comparison
pH Reference Chart for Ionizers
Alkaline Water

Foods, Disinfection, and Washing Dishes

pH 9.0-11.0 Alkaline 4 (Strong Alkaline)

Soak vegetables, beef, pork, and fresh fish to remove fishy taste and strengthen food's natural flavors

Make soup and helps food maintain nutrients and color

Effectively reduces pesticides on fruits and vegetables

Cleans tough oil stains on dishes

Ginger, Grapes, Tomatoes, Kelp, Seaweed

Alkaline Water

Daily Drinking

pH 8.5-10.0 Alkaline 3

Suitable for daily drinking and improving overall health

Improves conditions for upset stomach, constipation, diarrhea, and gout

Mushrooms, Soy Beans, Spinach

Alkaline Water

Cooking & Drinking

pH 8.0-9.0 Alkaline 2

Cook rice, preserves natural flavor longer

After initial period, this level is suitable for daily drinking

Make tea or coffee, reduces bitterness and improves taste

Bananas, Carrots, Chestnuts, Lettuce, Red Beans

Alkaline Water

Initial Drinking

pH 7.5-8.5 Alkaline 1

For people who are just beginning to drink alkaline water

Helps balance internal pH

Improves assimilation of calcium and other minerals

Apples, Cabbage, Eggplant, Onion, Tea

Purified Water

Purified Water

pH 7.0

No color, no taste, no impurities

Suitable for taking medicine, making milk, and for baby's diet

Asparagus, Bread, Milk, Miso, Tofu

Acidic Water

Acidic Water

pH 5.0-6.5 Acidic 1

Not suitable for drinking

Close to skin's pH value, this pH has an astringent effect for face washing

Ideal for bathing sensitive skin and infants and relieving sunburns

Minimizes appearance of pores and ideal for brushing teeth

Restores shine to hair and is great as a natural after-shave

Beef, Beer, Clams, Rice, Octopus

Acidic Water

Acidic Water

pH 4.0-5.5 Acidic 2

Not suitable for drinking

Antibacterial for tableware and floor cleaning

Soak to eliminate residual agricultural chemicals on fruits and vegetables

Cheese, Egg Yolk, Oats, Squid
Includes
1 IT-750 Under Sink Alkaline Water Ionizer

1 ACF-1 (activated carbon filter) Pre-installed Filter

All parts necessary for installation such as clamps, hoses, wrench, etc.

1 dual spout faucet/alkaline and acidic water dispenser with control panel

FREE at-home water pH testing kit includes bottle of pH testing solution, pH reference chart, and testing container
Specifications
Size (WxHxD): 16" x 12" x 10"
Weight: 14 lbs
Electrolysis Plate Material: Platinum-Titanium Plate
Filter Material: Activated Carbon Fiber and Coconut Fiber
Filter Change: Approximately every 1,585 gallons (6 months)
pH Value: (based on source water quality) 4.5-11
ORP Value: (based on source water quality) Max: -850mv
Voltage: 110V or 220V (US or European)
Water Output Flow: 0.26 - 0.92 gallons (or 1 - 3.5 liters)
Working Water Temperature: Up to 104°F
Electrolysis Chamber Cleaning Duration: 1-2 minutes
Important Notes
Never consume acidic water; acidic water is not suitable for ingestion

Let the water run through the machine for 30-60 seconds each morning

Never use an aluminum or copper vessels for containing alkaline or acidic water due to a possible chemical reaction

Never block, bend, or twist water outlet hose or drainage hose
Certifications
CE, SGS, ISO, NSF. Industry-leading USA manufacturing process complies with the highest drinking water standards.
Activated Carbon Fiber Filter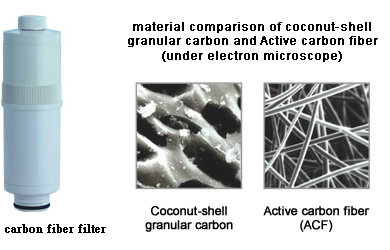 Replacement Filters
ACF-1 Alkaline Water Ionizer Replacement Filter
Recommended Add-Ons
Pre-Filter 3-Stage Purification System - Prolongs the lifetime of your alkaline water ionizer and improves its effectiveness by protecting it from calcium build-up, and provides additional filtration for the ultimate purification and quality improvement of your drinking water
Installation Video
2 Year Warranty